---
Formula SAE makes fast work of career development
Mark Atwater posted on December 14, 2013
College students are rarely stereotyped as hard-working, dedicated and focused. But stereotypes are rarely correct. Give some aspiring engineers a challenge and they will deliver.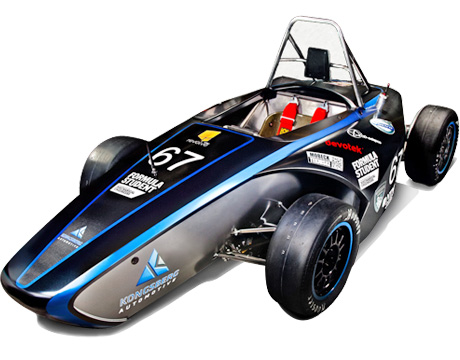 This was recently demonstrated when students at TU Delft broke the world record for acceleration from 0 to 100 km/h for electric cars. Engineers, particularly mechanical engineers, tend to have a bit of gearhead in them by nature. Formula SAE racing - and the associated build - is not just about a need for speed.
As explained by, Steve Daum, collegiate projects manager for SAE International, Warrendale, PA, "Many people who work in the auto industry are former competitors. Employers want to know how you solve problems and you have the answer many times through this experience."
The Formula SAE competition involves design, fabrication, testing and racing. Typically, the teams start in the fall with 4-5 months of design work. Although many components are purchased (tires, electronics, etc.) there are many challenges in the fabrication.
"Welding all the tubes together, how you want it to be constructed to hold things together….For many students, it's their first chance to do anything like this. And some get very serious," Daum explains.
The students must work as a team to address problems, enact solutions and optimize the design. Although teams can be made up of only a handful of students, 20-30 (or more) can be involved as well. The competition is not limited to undergraduates, but typically they comprise the majority.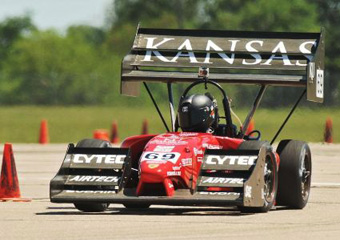 The team-based collaboration is important. Taking on problems without clear solutions is also a major benefit.
"If you were on a good team, then you learned efficiency," Baum says. "It's also easier for the potential employer to relate to someone talking about their experience in a car competition than work they did with a professor on some widget drill."
Although "widget" drills may well be the future of how SAE clubs fabricate their cars, the point is taken. Student organizations provide a means for experience in a team environment.
This benefit was emphasized by Danny Ellis, CEO and founder of SkySpecs. His involvement with the Michigan Autonomous Aerial Vehicles (MAAV) team led to his entrepreneurial inspiration to take on structural inspection using autonomous aerial robotics.
Although the accomplishments on the track may be impressive, it is the accomplishments after graduation that are truly affected by these challenges. Students are forced to address the "why" in their design, and that requirement to justify their decisions pushes them to look deeper into their education.
Click on the video below to see more about the competition and the companies who see the value in it.
Images courtesy of ASME
—————
---